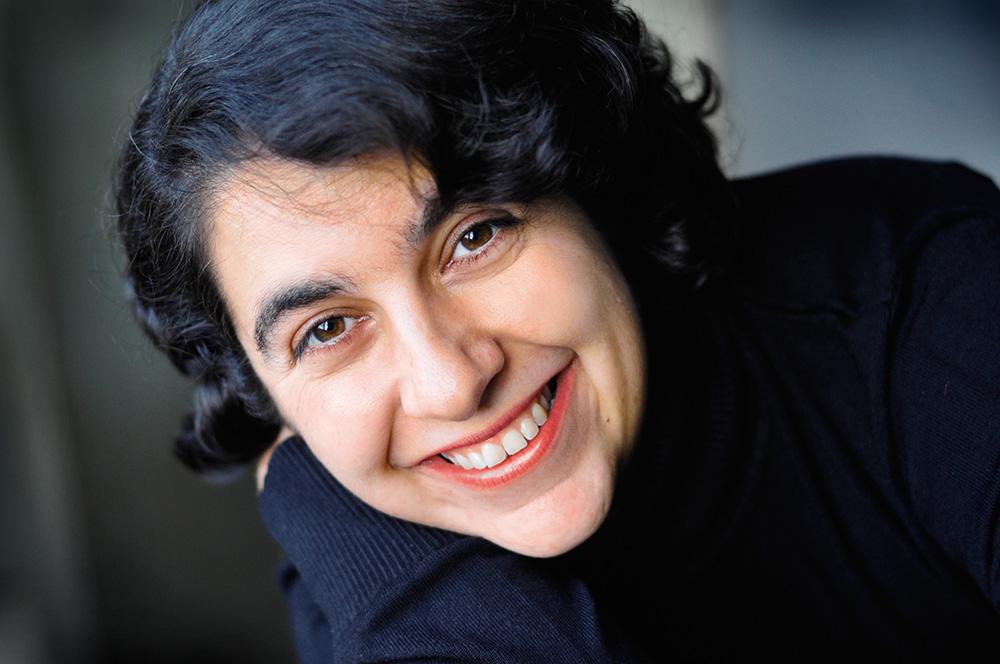 Mehrnousch Zaeri-Esfahani

Those of you who understand German, listen to this inspiring Kulturradio RBB (Berlin Brandenburg) interview with Mehrnousch Zaeri-Esfahani: Erzählen ist Heimat.
https://mediathek.rbb-online.de/radio/Das-Gespr%C3%A4ch/Mehrnousch-Zaeri-Esfahani-Erz%C3%A4hlen-ist-/kulturradio/Audio-Podcast?bcastId=48864984&documentId=53710806
You probably have to copy this link to your browser.
The following are some of the high points translated by me.
Mehrnousch is a writer, a reader, and a story teller. She was born in Iran and from age 10 grew up in Germany and loves it. Most concepts like Heimat (homeland), as well as Monochronic and Polychronic time take on special meaning, which she captured from her own experiences as a refugee.
For example, take her meaning of Heimat (country of origin). While it is a term with a long emotional history in Germany, Mehrnousch re-defines it. She says, of course, having a homeland is necessary, but it is not bound to land, geography, or earth. Rather it is in and around us in this sense: (a) we belong to a group by birth, or find a group to belong to, in which we simply are who we are; (b) we remember the past or regain it by remembering it and hearing it from our parents and grandparents. These two things are Heimat. We have therefore a firm identity. The remembrance is a process that takes years. And here she adds another distinction, namely, that between monochronic and polychronic time.
She experienced both kinds of time; but it is the monochronic time of Germany that she experienced as real freedom. She describes how she first experienced monochronic time in a town in Germany when she and her siblings decided to explore it. They went to a train station and noted a framed sign with a lot of information and numbers on it. Puzzled they stared at it until suddenly her brother said, "look, that has to be the times when the trains arrive." And then, sure enough, at 8:13 p.m., a train arrived. Mehrnousch and her siblings were positively excited and thrilled. She calls the moment of recognition and realization an "integration bomb". In this town and this country, she understood, "things were clocked" and more, this structure, she and her siblings experienced as freedom. If we assume, or give our assent to. this organization as an inner attitude, well, then we are free for example to simply walk to a station at a specific time to get from A to B. We do not need to find and persuade someone from our grand-family to drive us here and there. We are free to make plans and go ourselves.
What is significant to Mehrnousch, is that she contrasts this experience with that of her family in flight from Iran to Turkey. They stood on the road, unending hours, and hoped quite fatalistically that some time, somehow, some means of transport will pass by and have space to take all with them. To stay sane, she and her parents drew on very different inner attitudes. Her parents remember those with great pain.
In short, Mehrnousch
came
to understand integration as a process of self acceptance and as meeting persons from the host country who, like her, had their own self understanding. She began to see herself as having carried a Rucksack filled with things and memories of her past. According to her, integration is the process where, shifting from polychronic fatalism and clan dependence to monochronic attitudes of plan making and realizing, led, over time and bit by bit, to emptying her backpack of those items or memories that in the adopted country were simply no longer necessary. But one needs that backpack, she emphasized, and one needs to love it, both its
positive
and
negative
aspects, and then nurture the
positive
qualities of self and move on freely in what she sees clearly as her world or her home.
Her love of her origins and her love of Germany where she lives a full professional and generally integrated life is genuine.
Karla Poewe